| | |
| --- | --- |
| Add: | Industrial Park Zone of South |
| | Anping County, Hebei Province, |
| | China. |
| Tel: | +86-318-8097607 |
| Fax: | +86-318-7513998 |
| Mobile: | +86-15369679157 |
| Skype: | summerpfmscreen |
| E-mail: | info@pfmscreen.com |

About Us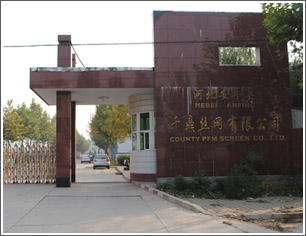 Founded in 1987, PFM is a professional manufacturer and exporter of polyester mesh, including Polyester Printing Mesh, Silk Screen Printing Mesh, Polyester Dryer Screen, polyester screen printing mesh(bolting cloth), polyester linear screen, polyester spiral dryer fabric, polyester spiral press filter belt, polyester forming fabrics, sludge dewatering belt and polyester filter cloth.
PFM has a land area of 40,000 square meters, with 83 sets P7100 and P7150 polyester printing mesh weaving looms imported from Switzerland,Texo polyester dryer fabric looms,WIS automatic seaming machine imported from Austria and 46 sets of other machines and devices including automatic warp arranging machine imported from Germany,heat shaping machine,automatic warp arranging machine for metal mesh and test facilities.

Our products have been exported into more than 30 countries all over the world, such as USA, England, Brazil, South Africa, Kenya, Morocco, Russia, Indonesia, Singapore, Pakistan, Malaysia, Thailand, etc.
Our products focus on quality and fast delivery, and our staff focus on service. Choose us as your partner is your best chice and once first cooperation, we will be lifetime partners!